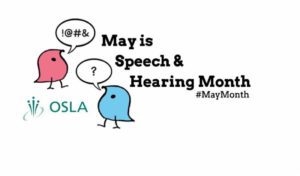 May is Better Speech & Hearing Month! This is a time when we at Lear Communication like to honor the profession by spreading the word! We feel it is important to spread education about speech & hearing disorders but also ensure that you know where to find resources and support if you or a loved one is experiencing communication difficulties. Throughout the month, we will post updates on this page for your reference. You can begin by viewing this informative handout by OSLA and also by knowing the best sites that provide education and resources – see below.
May is Better Speech Language and Hearing Month
Please feel free to contact Lear Communication and speak to a speech-language pathologist, free of charge, if you feel that you may need services for speech-language difficulties or difficulties with swallowing, fluency or cognitive-communication (memory, listening, reading, writing, planning/organizing and executing plans or social communication abilities).